Future Hornsby –  Council is developing a long term vision for the Shire and reviewing the local strategies and plans that shape the way Hornsby Shire will change over time. It will form the basis of a Local Strategic Planning Statement (LSPS) which will identify Hornsby Shire's special characteristics and the values that are to be preserved and how change will be managed into the future.
This is Council's opportunity to set out its 20 year vision for Hornsby. Preparation of a Local Strategic Planning Statement is a legislative requirement for all Councils in NSW following the release of the NSW Government's Greater Sydney Region Plan – 'A Metropolis of Three Cities' and the North District Plan.
Council's Local Strategic Planning Statement will provide a link between the NSW Government plans and Hornsby's Community Strategic Plan and local planning strategies.
Council conducted an initial 'health check' of the Hornsby Local Environmental Plan 2013 in mid-2018 which highlighted a number of areas that required further study. The studies are categorised into the themes of liveability, productivity, sustainability and collaboration and will inform the preparation of the Local Strategic Planning Statement. A list of the studies under each of the themes is included below.
Housing Strategy
Community and Cultural Facilities
Active Living Strategy
Comprehensive Heritage Review
Hornsby Town Centre Review
Environmental Sustainability Strategy
Urban Heat
Climate Change Adaption
Biodiversity Management
Water Sensitive Hornsby
Urban Forest Strategy
Economic Development & Tourism Strategy
Employment Land Use Study
This is a once in a generation opportunity to discuss our strategy for the future of Hornsby and this process is supported by a $2.5M grant from the NSW State Government and our work will rely upon the planning already undertaken by the Greater Sydney Commission.
Right now, Council is undertaking a range of evidence based studies which will assist this process – and you will see a number of focus groups, drop in sessions, surveys and other activities scheduled for the next few weeks. This is the first stage of this process. A full list of strategies and plans can be viewed on the 'Areas of Study' page. None of these are the only opportunity for you to have your say – it's just the start.
Overdevelopment, inappropriate development, loss of the tree canopy, lack of infrastructure, lack of support for local business development, traffic and parking issues are easily the most talked about issues in our community – so this is the beginning of a lengthy process where everyone will have a chance to have their say.
Let's take this opportunity to determine a better future for Hornsby Shire and for Pennant Hills.
Head to the website and you can see further details about the process, the timeline, along with how you can become involved.
There will be a wide and comprehensive engagement process on the draft Local Strategic Planning Statement towards the middle of 2019. In the meantime, if you wish to contribute or have your say, go to the 'Get Involved' page.
Environmental Sustainability Strategy
Hornsby Shire Council is developing an Environmental Sustainability Strategy in collaboration with you, the local community. This strategy will forecast the next 20 years and be a cornerstone to ensure our environment is strong, resilient and adaptable into the future. Come along to a pop-up kiosk and talk to us about your priorities for environmental sustainability.
Are you a Business in Hornsby Shire?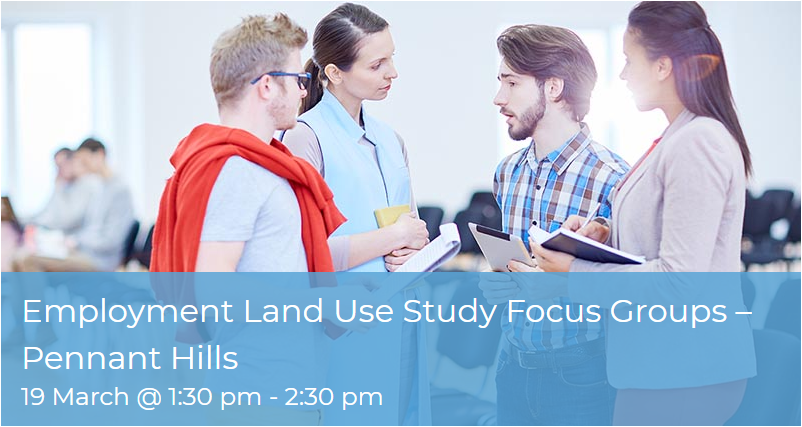 Council has engaged Hill PDA Consulting to run a series of focus groups with local businesses and representatives groups to discuss the opportunities and challenges for business development and employment in the local area. This area of study will specifically look at the land use aspects of our commercial, business and industrial areas. Please RSVP to submissions@hillpda.com with your business name, contact details and the session that you wish to attend by 15th March 2019. Places are limited to one session per business.
what do you WANT for Pennant Hills ?
Do you have great ideas for our local community? What does Pennant Hills need in the near to medium future? Engage with Council and get involved!
Alternatively, mail your ideas to the Pennant Hills Civic Trust at secretary.phdct@gmail.com or come and see us at our monthly meeting and have a chat.