One recent Sunday morning, close to 50 enthusiastic Hornsby Shire volunteers, armed with gloves and garbage bags, embarked upon a local creek to clean up stormwater runoff.
They were a culturally diverse group of adults, children, teenagers, grandparents and a six-month-old in a pouch, and they were ready for some action.
There was energy as the group where led into the forest by musicians Junkyard Beats. They travelled along the creek line, plucking plastic bags from overhanging branches and digging out shredded bits of rubbish embedded in the soil. As the tunes played, they eagerly scrambled in every direction trying to gather as much as they could carry.
There was delight in working together and in the work that was accomplished, yet there was horror at the mountain of waste collected. In just two hours, thousands of pieces of polystyrene and plastic rubbish were intercepted before travelling further downstream into the Hawkesbury River.

This is just one creek in a wider network of creeks in Hornsby Shire. Some connect to the Hawkesbury River and others to Upper Lane Cover River and they are all connect to the Pacific Ocean, the sea we eat from and the one we love to swim in.
The Great Pacific Garbage Patch actually started outside your home. It is the rubbish that got washed down the stormwater drain in your street!

Wherever you are, whenever you see rubbish, pick it up and put it in the bin.
Regular people are picking up rubbish on their daily walks, cleaning up their local parks and streets. Community organised clean ups are on the rise. Get your family, friends or neighbours together for a waste free BBQ and clean up your local area. Put some music on and make it fun.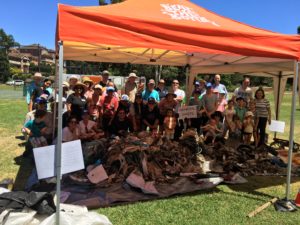 Clean up Australia day is on Sunday 3rd March. Find an event near you:
https://www.cleanupaustraliaday.org.au/join-a-clean-up
We all need to take responsibility for the waste in our environment.
Email secretaryphdct@gmail.com and tell us what you think.
Do you like this work? Support the Trust and become a member! It's easy, and only $20 per household per year!
Monika Ball, Pennant Hills District Civic Trust.
This article was also published in the Monthly Chronicle and on our facebook page.